Home
About Us
The society started in 1985 when a few avid collectors of local postcards, photographs and books suggested that a local history group be formed. The inaugural meeting was on Monday 14th October 1985 at Dover College Junior School Hall in Shorncliffe Road with the first illustrated talk was given by the late Rev. Alan Gibson on Builders & Architects in Victorian Folkestone in November of the same year.
The society puts on a series of interesting local history talks throughout the year which are attended by an average of between 50 and 60 people. Also members are welcome to get involved in research and local history projects and exhibitions. A current project is to create a photographic record of every shop and business in Folkestone and Cheriton. If you are able to help in any way with this, please contact us here.
Refreshments are available at these sociable evening meetings and they are a great way to meet other likeminded people. Outings and dinners are also organised for the members. In October 2010 the society celebrated its 25th anniversary with a dinner for members at Folkestone Bowls Club and its 2014 exhibition commemorating the centenary of the First World War attracted over 4000 visitors and national newspaper coverage.
Next Meeting
Wednesday December 6th 2023 - A fun Chrismas Quiz with sausage rolls and mince pies. 7.30pm for 8pm start at Holy Trinity Church Hall, Sandgate Road. Free to members, £2 to non members.
Facebook Page
We have created a Facebook group and are going to be using it to share old views of the town and put up pictures of unidentified photos to see if anyone can help locate the buildings in them. Please 'Join' our group and share it with your friends. All meetings and events are publicised on our Facebook page.
New Local History Books
The 'Publications for Sale' page has been updated to include the latest books about Folkestone, including the history of the local Rotary Club and its Rotaract Club as Folkestone Rotary Club is celebrating its centenary. These two books are limited print runs. We are also pleased to announce the publication of 'From Bobbys to Folca by Vincent Williams' which is the story of probably Folkestone best-loved department store - Bobbys - which became Debenhams. All these three new books are curently available as hardback for £15 each and softbacks for £10 each and can be purchased through the Society's book stall and through our usual retail partners, which now includes Folkestone Museum.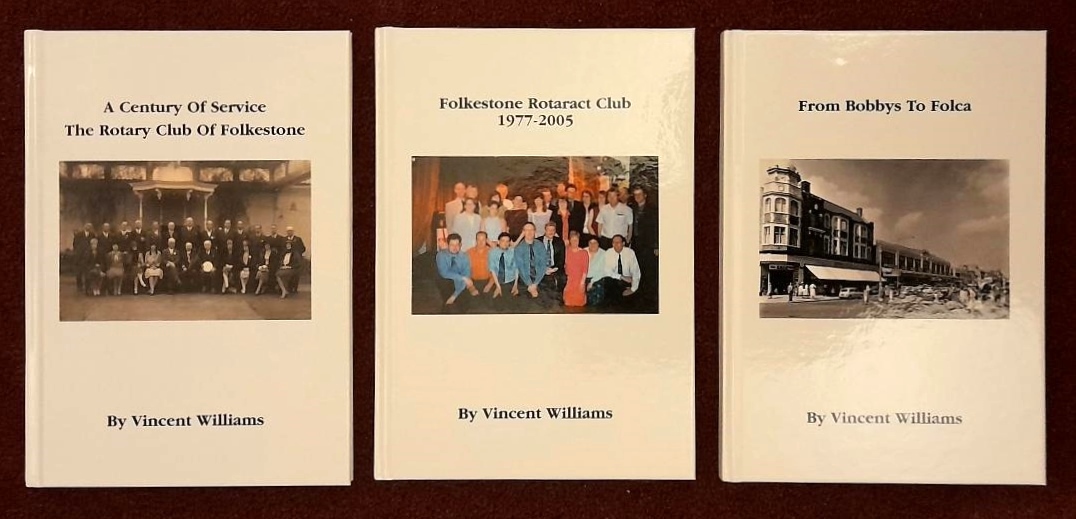 New Article
Please see the side bar to access our latest ebook - The Autograph Album of Ernie Horton - a local soldier in the First World War who kept an autograph book and English troops and German POW's painted and drew pictures in it for him.
Where To Find Us
Meetings are now held at Holy Trinity Church Hall, Sandgate Road, on the 1st Wednesday of the month (7.30 p.m. for 8.00 p.m. start).
Please see the Programme of Events for more details.
Membership Details
Annual Membership Fees: Single £10.00: Family £18.00) However non members are also welcome to attend the meetings - admission £2. If you wish to find out more, please come along or email: Alan Taylor
Help with Research
Although we are not a Society that researches on a commercial basis, our members do have access to resources and if we can help we will. Most answers to questions can be very simple and quick to find. For some questions however, it may take a volunteer some time and effort to locate an answer. We do not charge for conducting research, but if you would like to make a donation to the Society so it can continue to provide this service, please let the person responding to your email know and they can provide you with details to send the donation to. Thank you.
Website last updated 7th November 2023