Home
About Us
The society started in 1985 when a few avid collectors of local postcards, photographs and books suggested that a local history group be formed. The inaugural meeting was on Monday 14th October 1985 at Dover College Junior School Hall in Shorncliffe Road with the first illustrated talk was given by the late Rev. Alan Gibson on Builders & Architects in Victorian Folkestone in November of the same year.
The society puts on a series of interesting local history talks throughout the year which are attended by an average of between 70 and 80 people. Refreshments are available at these sociable evening meetings and they are a great way to meet other likeminded people. Outings and dinners are also organised for the members. In October 2010 the society celebrated its 25th anniversary with a dinner for members at Folkestone Bowls Club and last year's exhibition on the Folkestone's Victoria Pier & disappearing churches attracted several hundred visitors.
Next Meeting
Wednesday5th August 2015 - Open Evening & Film - "Folkestone: History of A Town" by Eamonn Rooney at Holy Trinity Church Hall, 7.30pm for 8pm start. A rare chance to see this 1992 documentary film which has never been released on DVD and has been out of print and unseen since the demise of VHS! Also members of the society will have on display many rare old photos and postcards from the Victorian and Edwardian eras for people to have a look at, including rare 3D views of Folekstone and the surrounding area.
Fishing Exhibiion (Opening Extended Through the Summer)
The popular exhibition on Folkestone's Fishing Heritage is back in town and is now running through the summer. Entry is free and it is open daily from 11am to 3pm (weather permitting). The venue this year is the Old Booking Hall at Folkestone Harbour opposite the lorry park.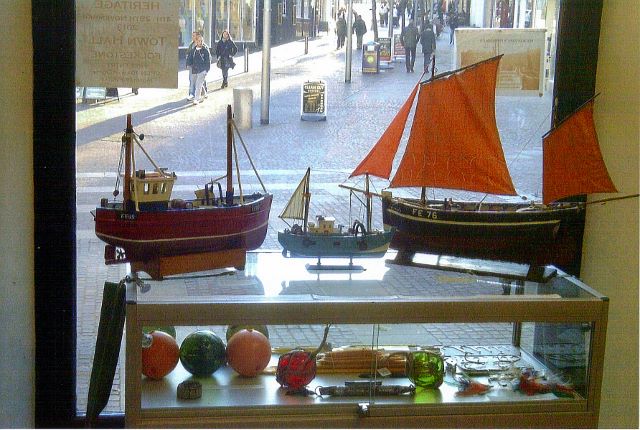 New Local History Books
There have been a few new local history books released in the last couple of months that are available through the society:
'Cheriton - An Illustrated History Volume 4' by Vince Williams (paperback £10 or hardback £15)
'Folkestone's Forgotten Hero Corporal William Cotter VC ' by Eamonn Rooney (booklet £4.50)
'The Tramway at the bottom of H. G. Wells' Garden' by Patrick Marrin & John Middleton (booklet £8.99, discount available for members)
'Folkestone for the Continent 1843-2001' by John Hendy (hardback £21.50, discount available for members)
Where To Find Us
Meetings are now held at Holy Trinity Church Hall, Sandgate Road, on the 1st Wednesday of the month (7.30 p.m. for 8.00 p.m. start).
Please see the Programme of Events for more details.
Membership Details
Annual Membership Fees: Single £10.00: Family £18.00) However non members are also welcome to attend the meetings - admission £2. If you wish to find out more, please come along or email: Alan Taylor
Help with Research
Although we are not a Society that researches on a commercial basis, our members do have access to resources and if we can help we will. Most answers to questions can be very simple and quick to find. For some questions however, it may take a volunteer some time and effort to locate an answer. We do not charge for conducting research, but if you would like to make a donation to the Society so it can continue to provide this service, please let the person responding to your email know and they can provide you with details to send the donation to. Thank you.

Website last updated 2nd July 2015